TikTok has aroused incredible commitment over the past year, which means that more channels want to hook up with short vertical videos; Instagram with Reels as an example. Now Youtube is also launching its TikTok copycat: Shorts.
The feature has been available for a while in India and has become very popular. Shorts was beta-tested by a small group of users in the US in March and Youtube chooses to open up it now to all creators in the country. It has been speculated that the format will also be opened up to global users in the coming weeks.
The launch of "Youtube Shorts" in the US was made public in Youtube's latest news update on the channel "Creators Insider", which was released on May 4th, 2021, along with a few more features.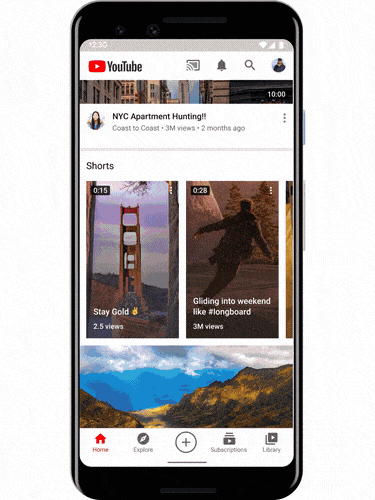 Shorts initially had a limit of 15 seconds and have now been extended to 60 seconds. The format is exciting for all the users and should make creators want to think in other paths in their content. Youtube is also investigating the possibilities of how to make money in the long run in the format.
Due to copyright issues, "Shorts" must be at least 15 seconds if you choose to use music from the Youtube music library.
You can add text after recording your short and choose when it will appear on the timeline. Youtube will automatically add captions for those with disabilities.
You can set a timer and set a countdown to record in hands-free mode and select when to stop recording automatically.
The speed can be adjusted afterwards in your video if you want to increase or decrease the tempo.
You can replace the video filter in the shorts camera on the recording and editing screens, which allows you to use filters to correct your video directly in the app.
The Youtube app has a "Shorts tab" which you can find at the bottom of the app screen and where you can discover other users' Shorts.
You can choose to add clips from your own library to one of the recordings you made with the "Shorts Camera".
Hope you enjoyed the article. Do not forget to subscribe to our newsletter!