The choice of formats and placements for your ads can be what determines your ads performance. The placements you choose depend on the content you want to post and what audience that you want to reach. If it is a longer video that describes how you use the product you sell, for example Youtube may be preferable to Instagram. An analysis of the target group for channel selection is required, as well as examining what is trending by conducting an analysis of the surrounding world. Now, let's have a closer look at each platform's available placements and formats adapted for paid social media marketing!
Facebook
Facebook for business recommends that you include advertising on Instagram if you are planning on advertising on Facebook. In this way, you optimize delivery. If you are choosing automatic placements in Ads Manager it is preferable as Facebook itself optimizes your budget on the placements that work best for maximum results. In the survey "Swedes and the Internet 2020" – Facebook is the most used social channel in all age groups 26 years and up in Sweden.
Note: Apple has announced new iOS 14 policy requirements that may affect where your ad will be displayed. Learn more.
Facebook News Feed: Your ads appear in the news feed on your computer when people access the Facebook site on their computers. Your ads appear in the news feed on mobile devices when people use the Facebook app on mobile devices or open the Facebook website in a mobile browser.
Instagram feed: Your ads appear in the mobile feed when people use the Instagram app on mobile devices. Instagram flow ads are only shown to people who use the Instagram app.
Facebook Marketplace: Your ads appear on the Marketplace homepage or when someone browses the Marketplace on the Facebook app. Learn more about ads in Marketplace.
Facebook video feeds: Your video is displayed between organic videos in video-only environments on Facebook Watch and in Facebook's news feed.
Facebook right column: Your ads appear in the right column of Facebook. Ads in the right column are only displayed to people who connect to Facebook on their computer.
Instagram Explore: Your ads appear when someone clicks on a photo or video. Learn more about ads in Instagram Explore.
Messenger Inbox: Your ads appear on the Messenger Home tab. Learn more about ads in Messenger.
Messenger sponsored messages: Your ads appear as messages to people who have an existing conversation with you in Messenger. Learn more about sponsored messages. Learn more about sponsored messages.
Stories: Stories on Facebook, Instagram and Messenger allow you to target personalized ads to your target audience and optimize your reach to maximize the number of people you can reach. Even in placements below, there are opportunities to reach your target group in a targeted way.
Your full-screen vertical ad appears in people's stories like: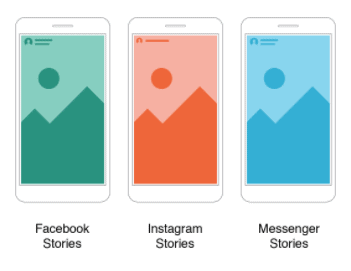 Audience Network: Audience Network extends Facebook's people-based advertising beyond the Facebook platform. With Audience Network, publishers can make money by showing ads from Facebook advertisers in their apps. This is an effective way to reach more people who use other apps and get an increased reach at a lower cost than if you had only chosen Instagram and Facebook. In other words, the advantage is that you can reach more people without having to spend more budget. There are two types of categories that your ads through Audience Network covers:
Audience Network Native, Banner and Interstitial: Your ads appear in Audience Network apps. Find out more about banner ads, interstitial ads and native ads.

Audience Network Rewarded Video: Your ads appear as videos that people can watch in exchange for rewards in an app (such as currency or in-app items). Find out more about rewarded video.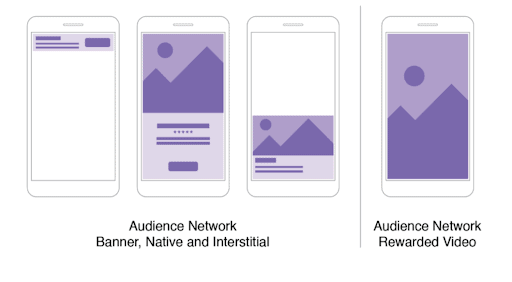 Facebook in-stream videos: Your ads appear in Video on Demand and in a select group of approved partner live streams on Facebook. Learn more about in-stream video.
Facebook search results: Your ads appear next to relevant Facebook and Marketplace search results.
Facebook Instant Articles: Your ads appear in Instant Articles within the Facebook mobile app. Learn more about Instant Articles.
One conclusion of Facebook's ad placements is that there are enormous opportunities to reach your target audience in the exactly right mood, time and type of digital behavior. Therefore, it's important that you make sure to adapt your content to the different placements and include it in your campaign setup to ensure an optimal customer experience. To cover maximum exposure within each placement, you need to optimize your ads creative into the formats 1:1, 4:5, 16:9 and 9:16.
Snapchat
Depending on whether your goal with the campaign is to drive traffic, increase the number of conversions or create engagement, there are placements in Snapchat that are made to match your goal. According to "Swedes and the Internet 2020″, Snapchat continues to be used mainly by generation Z in Sweden, where 9 of 10 users are between 16 and 25 years old.
A Snapchat ad can be up to ten seconds long and is available in these formats: Video, GIF, Picture & Cinemagraphs.
Now, let's have a look at the ads formats.
Single Image or Video Ads: A Single Image or Video Ad is a full screen ad that can be used for many objectives. Simply add an attachment and enable Snapchatters to swipe up and take action. Learn more about Single Image or Video Ads here.
Collection Ads: A Collection Ad features four tappable tiles to showcase multiple products, giving Snapchatters a frictionless way to browse and buy. Learn more about Collection Ads here.
Story Ads: Story Ads are branded tiles that live in Snapchat's Discover section. Generate excitement around your brand or latest collection with a series of 3-20 single image or video ads. Learn more about Story Ads here.
Lenses AR Experience: Lenses are a powerful and memorable way to connect with consumers using augmented reality. Create memorable, interactive moments that Snapchatters can play with and send to friends. Learn more about Lenses AR Experience here.
Commercials: Commercials are non-skippable for six-seconds but can be up to three minutes long. These ads appear within Snap's curated content. Learn more about commercials here.
Filters: Filters are artistic overlays that appear after you take a Snap and swipe left or right. Take part in Snapchatters' conversations as they visit neighborhoods, parks, restaurants, shops, and during key holidays. Learn more about Filters here.
To summarize the Snapchat chapter – Snapchat Ads are for every business, big or small. Now go ahead and use Snapchat Ads to reach your audience in a more creative, intimate and impactful way!
LinkedIn
If you are a B2B company, LinkedIn is a great channel for advertisement since you can be extremely granular with your audience targeting and reach businesses and decision makers that are important to you.
LinkedIn has over 740 million members and 55 million companies listed in 200 countries. They also have more than 260 million monthly active users and of those LinkedIn users who are engaging with the platform monthly, 40% access it on a daily basis. However, LinkedIn is used sparingly, so you only have a few minutes to make an impact. Users only spend about 17 minutes on LinkedIn per month.
Let's have a look on how to do it.
Sponsored Content: Reach a highly engaged audience in the LinkedIn news feed.
Sponsored Messaging: Engage your audience in LinkedIn Messaging, where professional conversations happen. There are two types of Sponsored messaging on LinkedIn: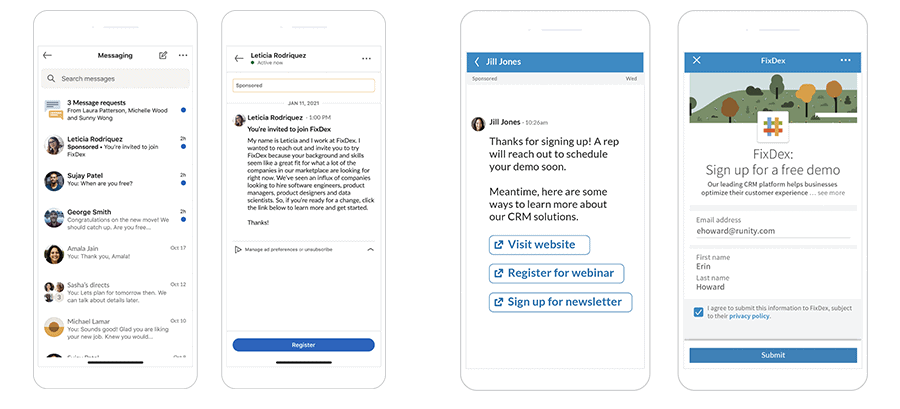 Lead Gen Forms: Collect even more quality leads from your ads on LinkedIn with seamless pre-filled forms. Learn more about Lead Gen Forms here.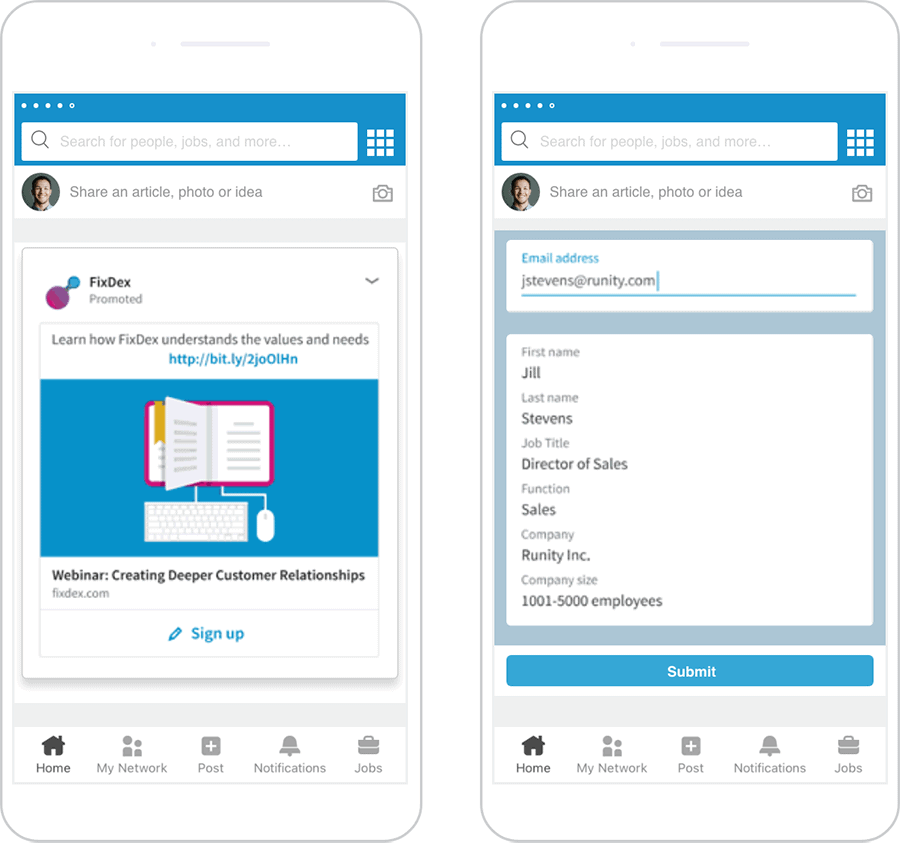 Text and Dynamic Ads: Run ads in the LinkedIn right rail. There are three types of Text and Dynamic Ads on LinkedIn:
Text Ads: Drive new customer to your business – on a budget that works for you through LinkedIns self-service pay per click (PPC) advertising platform. Learn more about Text Ads here.

Spotlight Ads: To drive conversions, use spotlight ads to showcase your product, service, event and more to increase traffic to your website or landing page. Learn more about Spotlight Ads here.

Follower Ads: To build brand awareness, use follower ads to promote your LinkedIn Page to seamlessly acquire followers. Learn more about Follower Ads here.

Pinterest
Ads on Pinterest are called "promoted pins" and look the same as regular pins, but it says "sponsored at the bottom. The advantage of advertising on Pinterest is that it is a low competition advertising opportunity opened up in 2019 in Sweden. The channel has a buying-oriented target group, so there are good opportunities to drive conversion at the perfect mood!
Pinterest Business account holders can choose to promote existing best-performing pins, create a new image or video, or even promote an image that's been pinned from a website.
Once an ad is set up in Pinterest Ads Manager, it will appear in users' Home feeds and relevant search results. Let's deep dive into the different formats.
Static Pins and ads: Static Pins and ads feature only one image. These specs apply to both organic Pins and ads.
Max. width video ads: Max. width video ads are videos that expand across people's entire feed on mobile. Max. width video ads are only available as a paid format. These specs only apply to max. width video ads.
Standard width video Pins and ads: Standard width video Pins and ads are videos that are the same size as a regular Pin. These specs apply to both organic standard width video Pins and ads.
App install ads: App install ads feature one image and allow people to download apps without having to leave Pinterest. They're only available as a paid format. App install ads follow the same specs as static Pins and ads.
Shopping ads: Shopping ads feature one image or a video at a time and allow people to purchase products they find on Pinterest. Shopping ads follow the same specs as static Pins and ads.
Collections Pins and ads: Collections Pins and ads appear as one main image above three smaller images, in feeds on mobile devices. These specs apply to both organic collections Pins and collections ads.
Story Pins: Story Pins appear as a set of multiple videos, images, lists and custom text in a single Pin. Story Pins are only available as an organic format.
Explore Pinterest's creative specs and requirements, from file types to character counts here.
TikTok
In recent years, TikTok has grown enormously since it was launched in 2016. The app merged with Musical.ly in 2018, and has been on the top lists of the most downloaded apps in both the App Store and Play Store. Today, the app has over 500 million users per month.
Advertising on TikTok has only just begun, because competition is lower among your target group and there are great chances that your company will gain ground on the platform in this way. Therefore, by hooking on to trends, you can easily grow and take a place with the target group.
Let's have a look at what formats and placements TikTok has to offer.
Brand Takeover: Is format adapted for brand building advertising- effective towards the target group. Immediately hook user attention with full-screen static or dynamic display, delivering strong visual impact for your brand through a full-screen visual experience.
TopView Ads: A video first format that presents your brand on the best and unmissable placement of TikTok, capturing full user attention with sight, sound and narrative. Up to 60 seconds of full-screen and long-form video, with auto-play and sound.
In-Feed-Ads: Short video ads that can be up to 60 seconds long. Tell your brand story like a TikTok creator by integrating video content into users' "For You" feed where users can 'like', 'comment', 'share', 'follow' and 'shoot videos with the same music' etc.
Branded Hashtag Challenge: A one-of-a-kind engagement format that taps into user passion for creation and expression. Delivering strong brand awareness with a level of engagement that goes far beyond a simple click. This format has an average engagement rate of 8.5% through likes, comments and shares.
Branded Effects: Dial up the fun with tailor-made sharable stickers, filters, and special effects. Unleash the potential of your creativity and watch its popularity grow.
Explore TikTok's ad formats here and specification here.
Twitter
On Twitter, you can easily reach a relevant target group in such a way that you can identify it by using specific keywords, hashtags, interests, engagement in topics that are trending and following specific accounts. Some formats and placements can be perceived as more flexible
than Facebook's. So which ad formats do we have here?
Promoted Tweets: Two variants. The first option is to further increase engagement for a tweet you posted that garnered high engagement. The second option is to boost a post so that only the target audience you are targeting is seen. Run a poll, add a GIF, or promote your account. These formats work best with engagements, reach, and followers campaigns.A great way to get potential followers to discover you. Learn more here.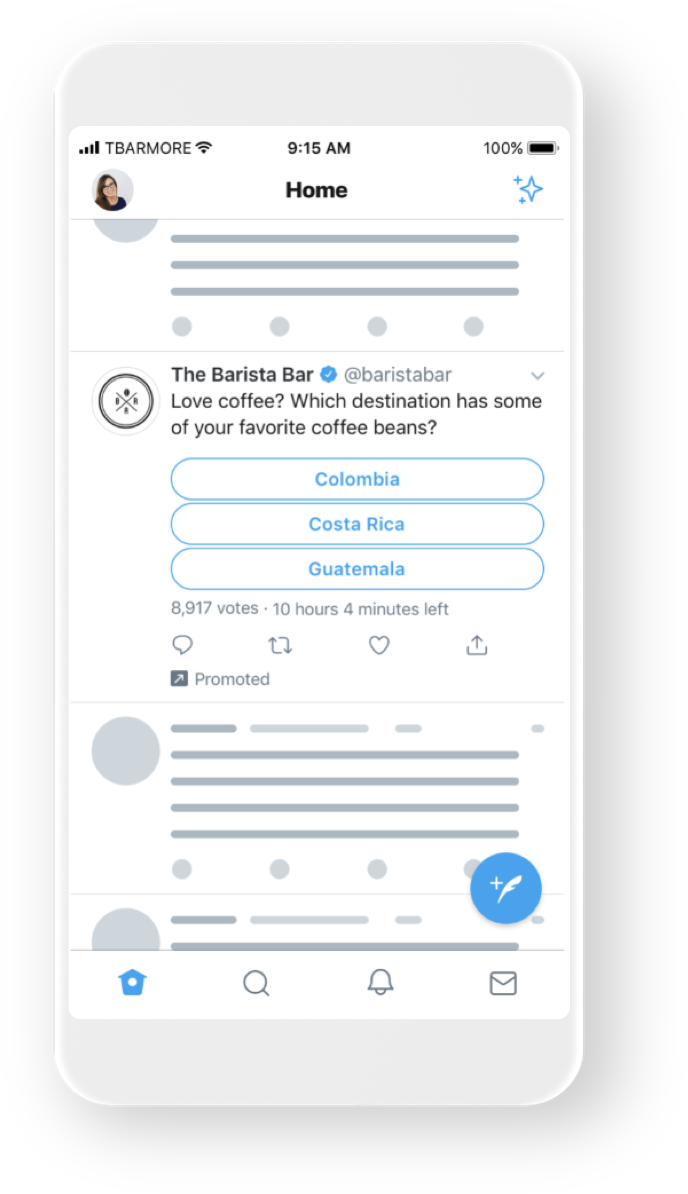 Carousel Ads: Tell a story, show off different products, or highlight more features – all within a single ad. Carousels can host up to six images or videos that drive directly and seamlessly to your website or app. Learn more here.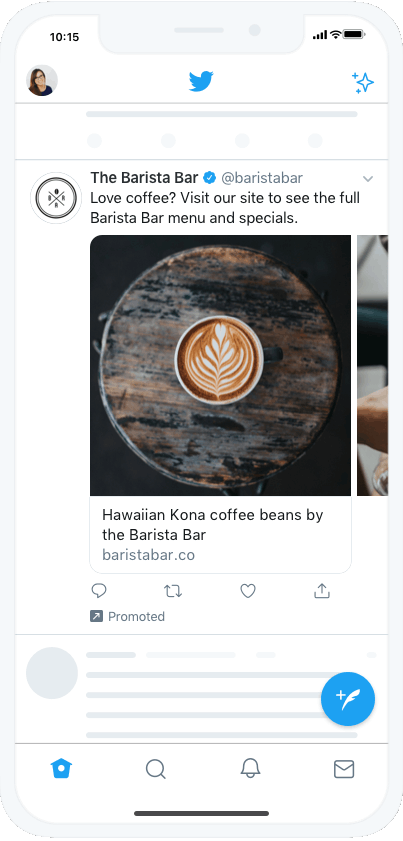 Videos: Videos are some of the fastest-growing and most engaging media formats. Launch a Twitter video views or amplify pre-roll campaign to make a memorable impression and maximize performance. Learn more here.
Want to stand out from the crowd on Twitter? Gearing up for a big launch day?
Twitter also has some takeover ad products to go one step further than traditional Twitter Ads campaigns by giving you exclusive ownership of Twitter's premium real estate across desktop and mobile, allowing you to maximize your reach and drive lift across the funnel. Let's have a look at their premium offerings:
First View: First View is an exclusive, single-day, "mass awareness" ad package of Twitter's most valuable impressions. You can achieve massive reach to our receptive audience over a 24-hour period using immersive, autoplay videos at the top of the timeline. Explore First View here.
Promoted Trend: A Promoted Trend is an exclusive, high-impact 24-hour takeover of the top Trends list on Twitter and the Explore tab on mobile — where people go to see what's happening in real-time. Explore Promoted Trend here.
Promoted Trend Spotlight: Promoted Trend Spotlight is a takeover ad placement that pairs the undeniable stopping power of video with the premium real estate of Twitter's Explore tab for 24 hours. Explore Promoted Trend Spotlight here.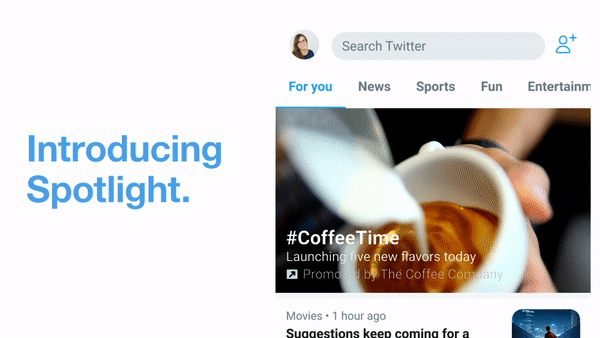 Youtube
YouTube has more than 2 billion logged-in monthly users and is the second largest search engine after Google. With YouTube ads, you can reach potential customers and encourage them to take action while watching or searching for videos on YouTube. The best part? You only pay when they show interest.
Although your ad will appear on YouTube, you'll manage your campaign using Google Ads, an advertising platform used by businesses running ads on Google and its advertising network – which includes YouTube.
Let's deep dive into YouTube's advertising formats.
Display Ads: Appears to the right of the feature video and above the video suggestions list. For larger players, this ad may appear below the player.
Overlay Ads: Semi-transparent overlay ads that appear on the lower 20% portion of your video.
Skippable Video Ads: Allow viewers to skip ads after 5 seconds. Inserted before, during, or after the main video.
Non-skippable Video Ads: Must be watched before your video can be viewed. These ads can appear before, during, or after the main video.
Bumper Ads: Non-skippable video ads of up to 6 seconds that must be watched before your video can be viewed.
Sponsored Cards: Displays content that may be relevant to your video, such as products featured in the video.
Viewers will see a teaser for the card for a few seconds. They can also click the icon in the top-right corner of the video to browse the cards.
Explore YouTube's advertising formats further here.
That was "all" for today! We hope you enjoyed the reading and gathered some valuable insights about how to maximize your marketing mix and social media marketing strategy by taking advantage of all these amazing opportunities out there. Good luck and as we usually say: Try, learn and above all develop to achieve the best results.
Don't forget to stay updated by subscribing to our newsletter!