Linkedin is a unique social platform that was founded already in 2002, and today has over 260 million users every month, and a total of 760 million users in over 200 countries according to statistics from Kinsa. On the social platform, there are enormous opportunities for you who want to reach out in B2B and want to build a network in your professional life. On average, Linkedin users spend 17 minutes every day. Of all active users, 40 million apply for jobs through the platform each month.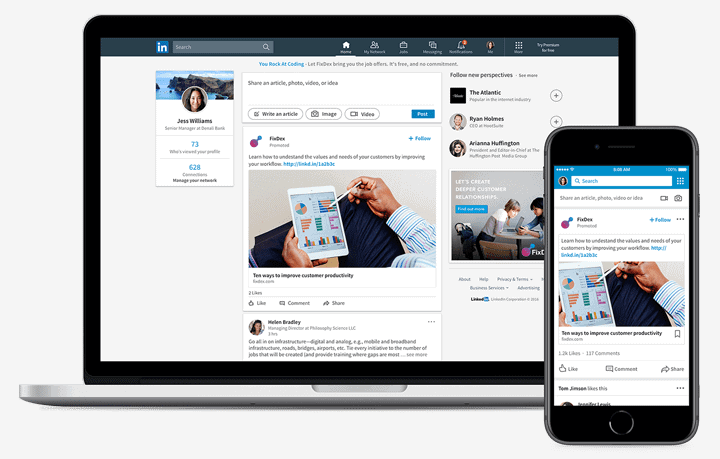 Development of paid marketing.
For ten years, we have been able to use paid marketing. Advertising is a cost-effective way to reach out to more people than your followers, and prospect new leads. Advertising in social channels has opened up new business opportunities by contributing to the growth of e-commerce, and also new ways of recruiting and finding cutting-edge expertise for companies.
Opportunities with advertising on Linkedin.
As an employer, you can achieve the specific roles you want to hire in your company through recruitment advertisements. The advantage of Linkedin is that through your network, you can also find the right competence for your services to be filled without the individual in question actively searching. But you can also create ads that can help you generate leads, new customers, increase your brand awareness or get people to sign up for your webinar.
How to get started – Advertising on Linkedin.
To advertise on Linkedin, it is required that you first set up an account in Linkedin in order to then be able to create an ad account in campaign manager, which is LinkedIn's advertising platform. You also need a company page to get started.
Linkedin Insight Tag.
To be able to measure your advertising, and analyze your target group, we recommend you to set up your technical implementation before your campaign is live. Like Facebook's pixels, you can install a Linkedin insight tag to be able to follow your target group.
Strategy – Advertising on LinkedIn
This is a basic strategy for your advertising on the platform. Further down, we will go through step by step what you should keep in mind when getting started with your advertising.
Objective
You need to have an objective for your campaign, and should be based on where in the customer journey and in what step you want to target your target group. Choose between these objectives:
Brand awareness
Consideration
Conversion
Target group.
Linkedin's advertising platform is different from other channels in that you can reach specific roles through the exact data from employees and company data that Linkedin has. Your choice of target group is the most important thing for you to succeed with your advertising – because if you do not reach the right people with your campaigns, your advertising will not be profitable.
Format.
On Linkedin, there are seven different formats to choose from that are adapted for image and video, and you choose the format according to the content you want to use in your ads and then see where they fit. More about formats and placements further down in this blog post.
Budget.
In advertising on Linkedin, the ads are sold through promotion, which means that you bid against other advertisers who want to reach the same target group. You choose pricing via CPC or CPM.
Step by step – Advertising on Linkedin.
In campaign manager, you can create your first ads. This is how you do it – Step by step:
STEP 1 – CHOOSE AN OBJECTIVE FOR YOUR CAMPAIGN
Brand awareness.
You choose brand awareness to reach a wide range of new potential customers, who do not yet know your brand very well.
Considerations.
You choose website visits, activities, film screenings to engage the target group that has interacted with your brand in some way before.
Conversion.
Lead generation, website conversions, job search you choose to get your target audience to convert, which can be applying for the position you have in a recruitment ad or filling out a form about your product / service.
STEP 2 – CHOOSE YOUR TARGET AUDIENCES
As mentioned earlier, this step is the most important of them all. You can choose to build your target groups according to the following options:
Business
Demography
Education
Work experience
Interests and qualifications
If you do not know exactly how you want to build your target groups. You can choose from LinkedIn's own target groups and then supplement them with your own choices. Linkedin will come up with suggestions and then you can choose whether the target group should have a connection to, for example in "finance". It is also possible to exclude audiences that you do not want to reach with your ads. For example, it could be those who already work at your company.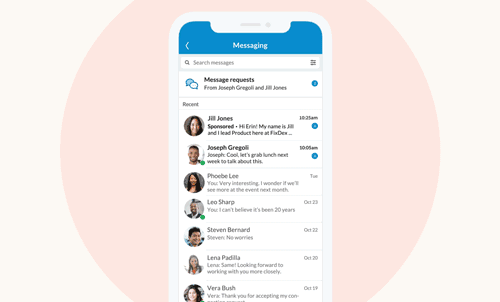 STEP 3 – FORMATS & PLACEMENTS
You should choose the format according to your choice of goal, and the formats available are:
Sponsored content – You can boost the content you publish on your company page. You can sponsor your photos, videos and links. When the ad appears in the target group's flow, you can lead them on to a leads-gene form as a "call-to action", and then generate in qualitative leads through your ad.
Image ads – A single, static image.
Video Ads – A video that plays automatically for the target audience as they scroll past the feed.
Lead Generating Ads – This ad allows you to add a lead form such as a report
Gallery Ads – Displays multiple images in a row in a gallery format and you can also choose to add a lead-generating form.
Dynamic ads – Allows you to create ads for a more specific audience, for example: follower ads, job ads or spotlight ads.
Text ads – This ad appears in the right column of the news feed and aims to drive traffic to your website, if you have an appealing headline and image you will create lead generating ads.
Message Ads – This format comes as a message in your inbox. This format is not perceived as an ad in the same way as the other formats and has a premium feature where you can send a message to whoever you want.
STEP 4 – BUDGET
It is more expensive on Linkedin than other platforms and it is above all competition among other advertisers who want to be visible to the target group that you are targeting. To make your ads as cost-effective as possible, you should use LinkedIn's automatic bidding system that adjusts so that the amount is spent as well as possible without exceeding your chosen maximum amount.
There are two ways to control your budget from the outside:
Daily budget – Determine the amount you want to spend per day.
Bidding:
Maximum cost bid – The highest amount you want to bid via CPC, CPM or CPS
Automatic bidding – Linkedin chooses to use user information to automatically set and adjust your bidding, in order to then be able to optimize towards your chosen campaign objective.
STEP 5 – MEASURE YOUR ADVERTISING
Similar to advertising in Facebook Ads Manager, you can measure the following:
Reach – How much exposure do your ads have?
Click Through Rate – How many people click on your ad?
Cost per Click – How much does each click on your ad cost?
Frequency – How many times does your audience see your ad per week?
Video Engagement Rate – How many people interact with your ads through video display length?
Traffic – How many leads does your website generate for your ads?
ROAS – What will be your return on advertising costs?
Conversions – How many convert through your ads?
Cost per action – What is the cost per lead?
These KPIs will help you to keep track of whether your campaign achieves the objectives you want to reach for and optimize your ads during the campaign period.
A / B test
In the same way as advertising in Facebook, you can create A / B tests to see what your target audience interacts and is engaged by. You do this by creating two ads that are similar to each other, but you change small details that can be color, copy, language, etc. Then you can evaluate what attracts your target audience and optimize your ads.
Summary.
As in all social media advertising, it takes time to achieve results. There are some things that you as an advertiser need to keep in mind on Linkedin. On the platform, you can reach out very narrowly and it is easy for you to get stuck in the specific titles that you can reach – do not forget to use focus also to be able to get greater reach.
Set aside a good marketing budget for your advertising in Linkedin. It costs more to advertise on Linkedin than on Facebook and you also compete with other advertisers in the market who bid to be visible to the same target group during the same time period. Therefore, invest in a percentage higher budget than intended to win the bidding against your competitors. You can also adjust the budget during the campaign – Take advantage of your optimization opportunities.
In advertising, you need to try your hand. There are only guidelines – but no conclusion on how to reach your target audience. So try, learn by doing and OPTIMIZE more frequent!
Hope you enjoyed the article. Don't forget to stay updated by subscribing to our newsletter!