Many people perceive TikTok as a creative platform where there is room to show a different side without filters and perfection and in this way it is considered that there is a lower requirement for the channel. At TikTok, there is a high level of commitment and has a higher engagement rate than both Instagram and Twitter. Therefore, there are great opportunities to build your brand by publishing organic content on the platform.
So what else do we know about this app that's on everyone's lips? Well, here's some TikTok statistics that will blow your mind:
Total number of TikTok active users worldwide: 1.1 billion
Total number of TikTok downloads: 1.65 billion
Number of video views per day: 1 billion
TikTok users spend more than 850 minutes per month on the app
TikTok users spend an average of 52 minutes per day on the app
Roughly 50% of TikTok's global audience is under the age of 34 with 26% between 18 and 24
TikTok was the 2nd most popular free app download in 2019 (738M downloads)
TikTok was the most popular overall app downloaded globally in 2020 (850 million global downloads)
TikTok has the highest social media engagement rates per post (Upfluence found micro-influencers had engagement rates of 17.96% on TikTok, 3.86% on Instagram, and 1.63% on YouTube. At the other extreme, mega-influencers had engagement rates of 4.96% on TikTok, 1.21% on Instagram, and 0.37% on YouTube.)
Source: Influencer Marketing Hub
Source: Digital 2020 Global Overview Report by Hootsuite & We Are Social
Source: TikTok Statistics – Updated February 2021 by Wallaroo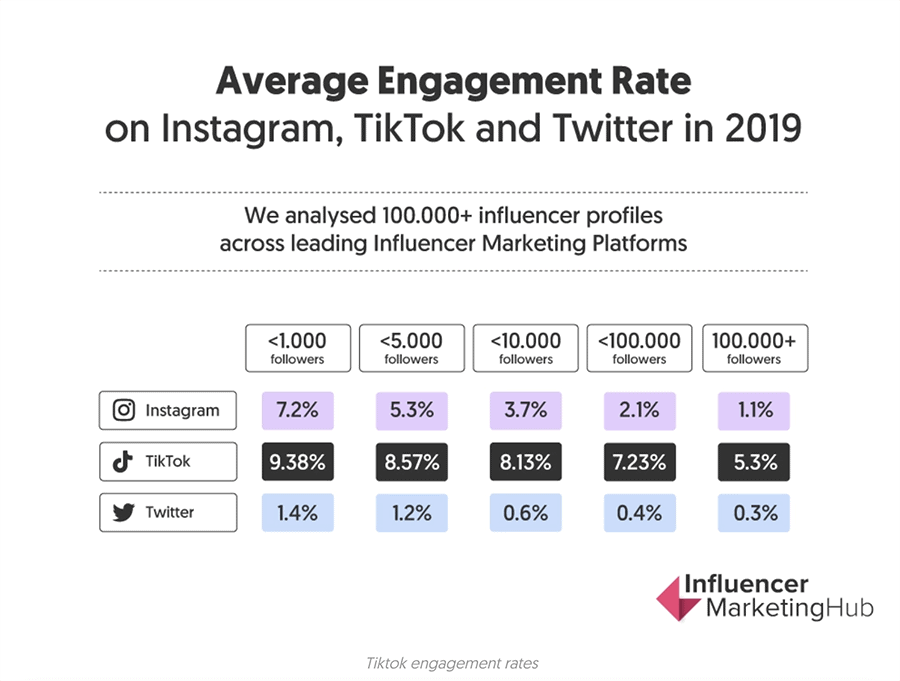 As of June 2020, the most popular content categories on TikTok all have over one billion views. The most viewed content category on the app was entertainment content, accumulating 443.3 billion hashtag views overall. Presumably, this category includes all those lip-synching videos. The second most viewed content category was dance, with a total of 150.3 billion hashtag views.
The next few categories are:
Pranks – 54 billion
Fitness/sports – 43.3 billion
Home reno/DIY – 28.6 billion
Beauty/skincare – 21.8 billion
Fashion – 17.5 billion
Recipes/cooking – 12.9 billion
Life hacks/advice – 8.3 billion
Pets – 7.5 billion
Outdoors -1.2 billion

While entertainment and dance videos monopolize TikTok users' time and interest, it is clear that they are willing to spend time watching videos on a broader range of topics nowadays – which means bigger opportunities for businesses to create a strong presence and to generate true business impact throughout the platform. Here's some Swedish examples of companies that has taken advantage of these major opportunities.
"The most important thing is to make a plan for how you want to present your brand in this channel – both organically, through influencers and in paid social and understand and analyze how all these three parts together will contribute to increased brand awareness, sales, commitment and new customers. For us, TikTok is a performance marketing channel among all other channels and we optimize and have implemented the same KPIs that we have in our other channels", says Raisa Räisänen from Ideal of Sweden in an interview with E-handel.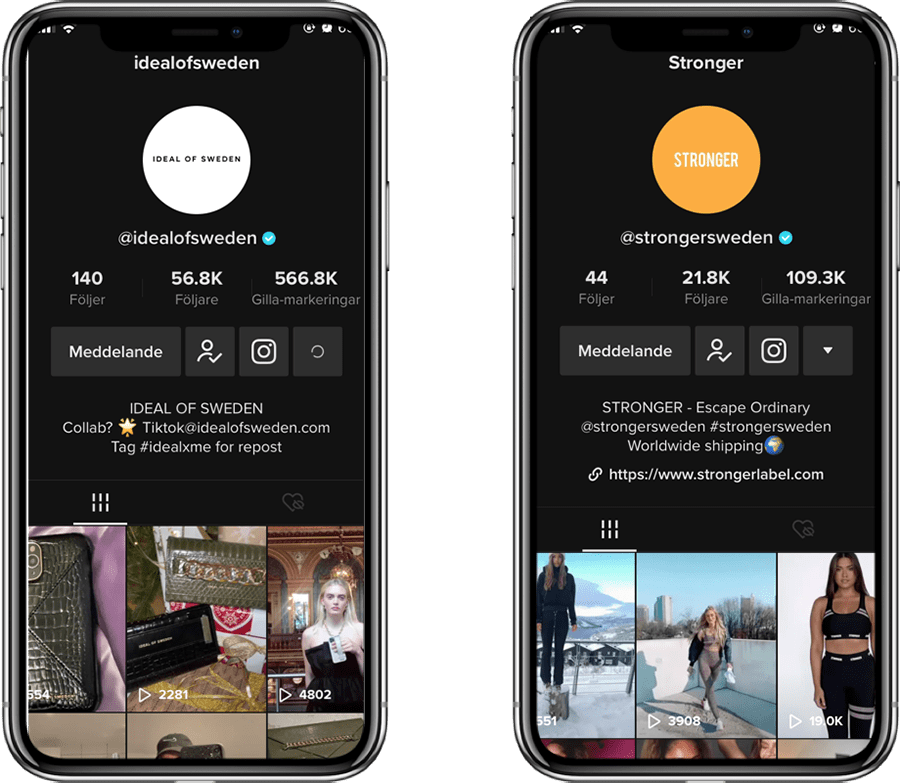 "At the end of 2019, Stronger registered an account on TikTok when we noticed that that channel was growing rapidly among the younger part of our target group. There are still very few companies that have established themselves on TikTok and we therefore decided to start developing a strategy for TikTok to be at the forefront," says Juri Gendelman, Head of Growth at Stronger in an interview with E-handel.
From the beginning, they were only a channel used by the younger target group also called generation Z in which the people who grew up after the turn of the millennium are included. In 2020, the use of TikTok in the target group increased 26-35 from 5% in Q1 to 15% in Q3 according to "Swedes and the internet 2020" and despite continuing to increase in 2021. During the pandemic, the channel has been used for other than just challenges and dance videos. Healthcare professionals in the United States have been able to disseminate information about Covid-19 and train the target group to prevent fictitious news. This by publishing sketches, new ways, music videos and duets.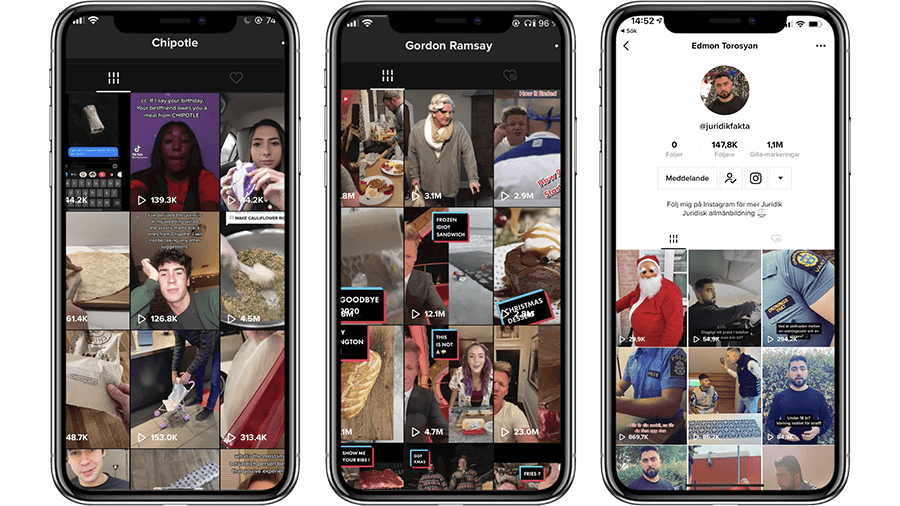 Above you can see TikTok users who use the app for educational purposes. Chipotle uses the app to share their customers' content and in this way they have built a community. Edmon Torosyan teaches his followers in legal matters. Gordon Ramsey shares clips where he comments on other people's cooking.
Advertising on TikTok
TikTok's own advertising tool is reminiscent of Facebook Ads Manager in that you can create, deliver and optimize your ads. But also create core audiences based on demographics, geography, interests and then customized audiences and lookalike audiences accordingly. You can choose the goal of your campaign: Traffic and conversions depending on what your goal with the campaign is. But above all, there are opportunities to increase your commitment. Advertising on TikTok has only just begun, because competition is lower among your target group and there are great chances that your company will gain ground on the platform in this way. Therefore, by hooking on to trends, you can easily grow and take a place with the target group.
Just recently, TikTok announced that TikTok for Business is open for business in the Nordics, which you can read more about in their press release here or at Resumé here.
Ad formats on TikTok
Brand Takeover – Is format adapted for brand-building advertising – effective for the target group. But expensive as it is specified to a targeted audience.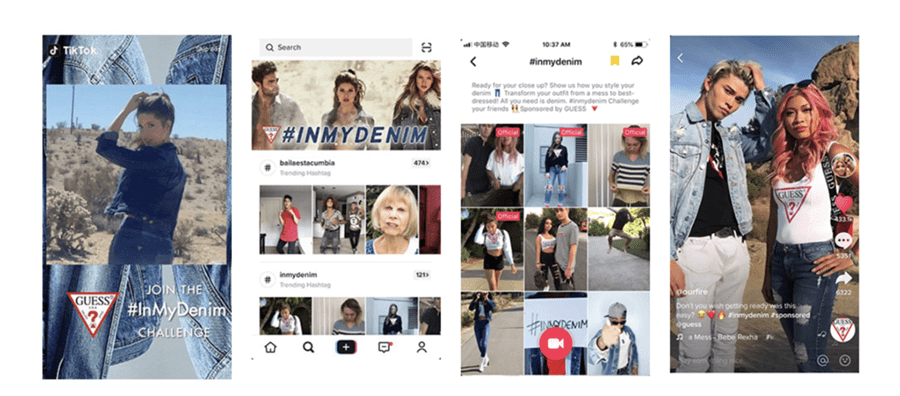 TopView Ads – Similar to Brand Takeover you give the user three seconds to scroll before the ad appears in the feed.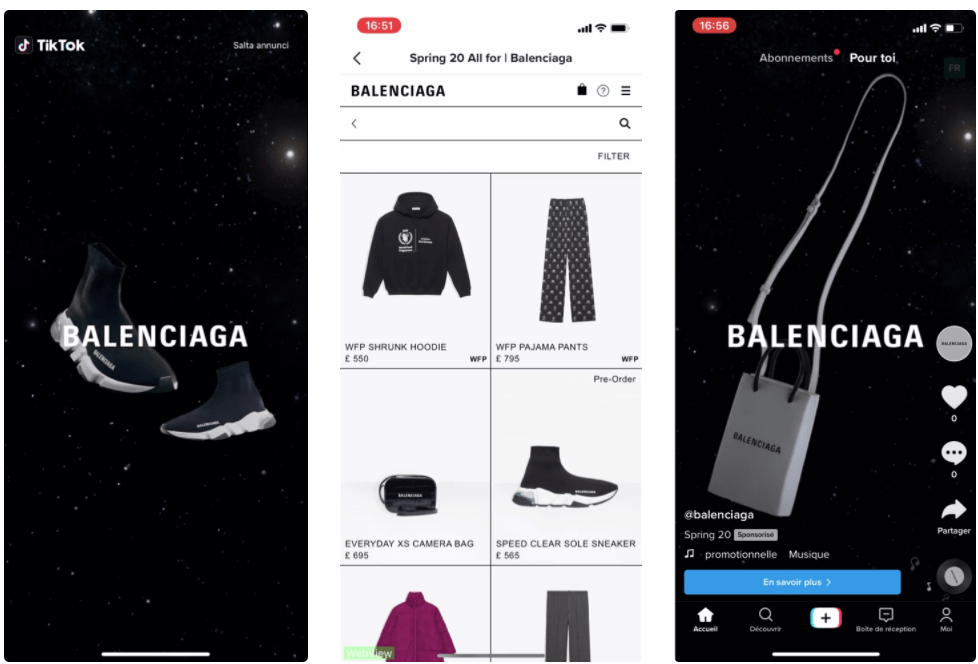 In-Feed Ads – Short video ads that are in the feed and can be up to 60 seconds long: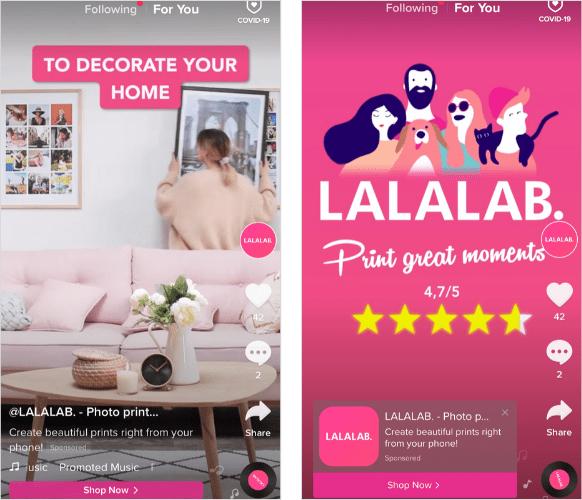 Branded Hashtag Challenge – Like regular hashtag trends and challenges with both opportunities organically and sponsored. Chances are that your challenge can be seen on TikTok's Discover-Banner.
Branded Effects – To create your own divisible stickers, filters and effects.
If you strive to strengthen your brand and want to increase your commitment, TikTok is a good channel to include in your media mix. At TikTok, there is the opportunity to get close and get to know your target group. There are also, as previously mentioned above, opportunities to take ground as many companies have not yet discovered TikTok and its potential.
Good luck! By trying yourself you will learn and above all develop to achieve the best results.
Don't forget to stay updated by subscribing to our newsletter!