All around the world, we now see companies taking different measures as a result of Covid-19. Many people believe that a large risk factor for the quantity of the pandemic is based on the dissemination of information on the social platforms. Never has it been more important for the companies behind these platforms to take responsibility for what may be communicated and what information should be prioritized and exposed. Last Sunday Google published an article about how they as a company have chosen to go about this issue, quickly followed by Facebook who yesterday released an article on the same topic. Common to both giants is how they have chosen to take action on the spread of misleading and scary content, shortcuts and easier access to correctly put information as well as major donations to the WHO (World Health Organization).
Facebook
Ever since the WHO came out with the information that the corona virus can be stated as a public health emergency, Facebook has constantly been updated its features and guidelines for the use of the platform and also been added precautions to its employees.
First updates came out on the 30th of January which were the same day that the WHO declared Covid-19 as a public health emergency. The updates revolved around reducing misleading information and malicious content from being disseminated and instead connecting people with information of value. This were then implemented by using their global third-party fact-checkers who carefully checked what was published on the platform and who removed misguided content. People who had been trying to share this type of information were then contacted by Facebook with a message about how they had been fact-checked. Further they began to remove content which were flagged as conspiracy theoretical and misleading by the WHO. They also took measures in the form of encouraging the right dissemination of information by providing credible and educational content to those who searched for the virus. Additionally, those organizations who spread valuable information in risk areas were given free credits for their advertisements by Facebook.
The second update came out on the 26th of February and acted as a complement to the former one. Like the first update, this one revolved around connecting people to accurate information and useful resources. Anyone who now were searching for the corona virus would be exposed to the latest information from expert health organizations such as the WHO. By taking this measure they were hoping to reduce the spread of harmful and misleading content. They also started to prohibiting ads that financially benefited from the pandemic by creating panic or guarantees that they could cure or prevent the virus.
The third update was released on the 6th of March as a clarification of previous updates. Ads that sold medical face masks were now also banned as a result of the previous guideline on prohibiting advertisement that financially could gain from harmful and misleading content. Instagram also released what actions they had been taken on the platform, which were the same as to Facebook's previous guidelines.
The fourth update came out on the 12th of March and revolved around how Facebook now provides additional resources for their users. On their "Community Hub", they published a blog post with reliable information on how to reduce the spread of the virus and give community leaders access to the right tools to handle their communities. They also made it easier for local governments and emergency response organizations to reach out to their communities through the tool "local alerts".
On the 13th of March, Facebook announced that they are matching $20 million in donations to support Covid-19 relief efforts.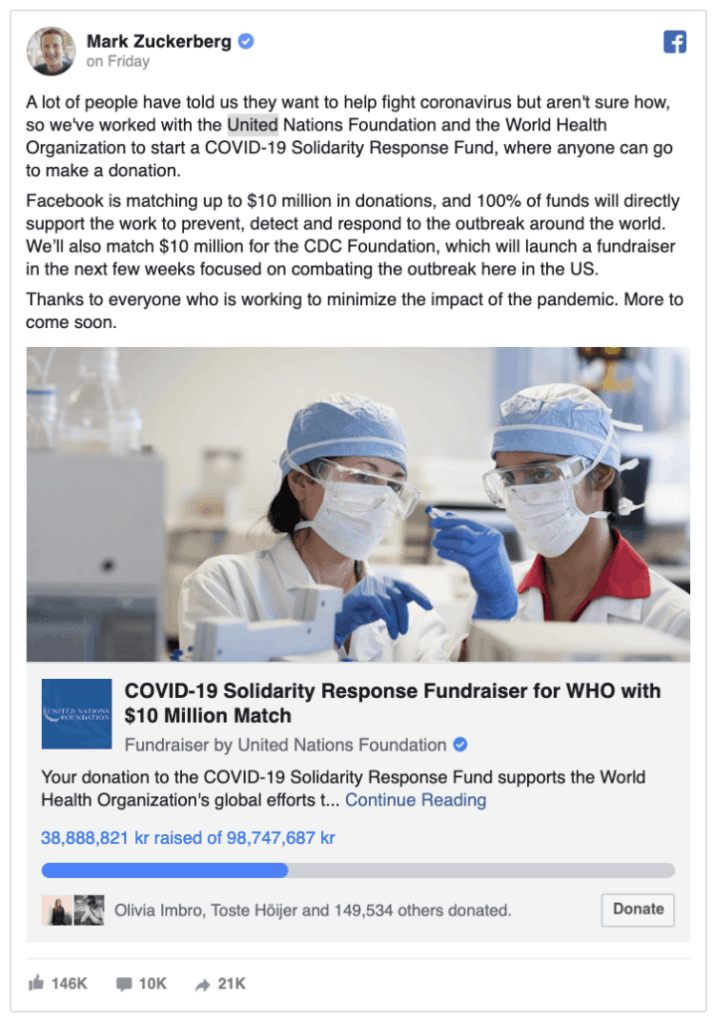 Read more here.
And today, on the 17th of March, Facebook announced that they are creating a $100 million grant program to help small businesses around the world impacted by the coronavirus.
To support fact-checkers in their work around COVID-19, they will also partnering with The International Fact-Checking Network (IFCN) to launch a $1 million grant program to increase their capacity during this time.
And finally, the will also supporting local news organizations as they deal with unexpected costs of covering COVID-19 and provide increased coverage during this time. To help, the Facebook Journalism Project is partnering with the Lenfest Institute for Journalism and the Local Media Association to offer a total of $1 million in grants to local news organizations covering COVID-19 in the US and Canada.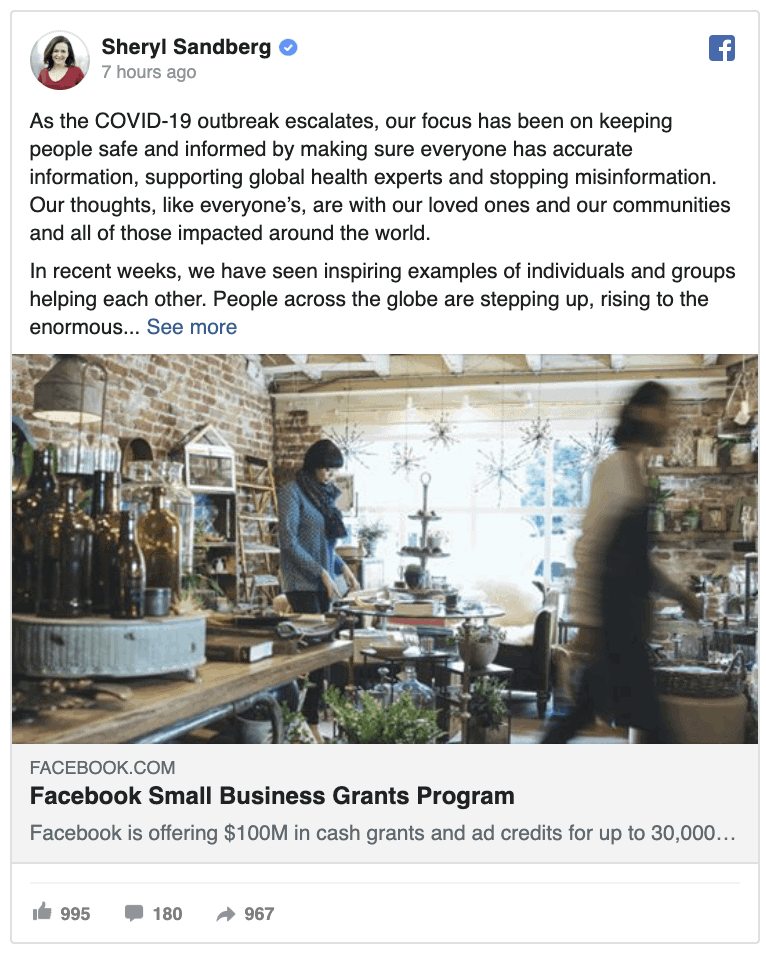 Read more here.
Google
Just like Facebook, Google also been taken a variety of measures in order to minimize unwanted dissemination of misleading and harmful content. As one of the world's most important places for collecting information with universal access, the circumstances surrounding a world pandemic are becoming extremely serious in taking action for an organization of this magnitude. As a result, Google has now partnered up with the U.S government to develop a website that educates on how to prevent the virus and about local resources around the country. So far, they have donated up to $ 50 million to various global Covid-19 funds. They have now also introduced paid sick leave for their employees who are forced to stay at home due to quarantine or who have had symptoms that are in accordance with the WHO's directives for the virus.
Additionally they continue their work of exposing people to appropriate and valuable information through their platform tools Search, Maps and YouTube. They have now also begun to remove content who could bring harm or misconception on YouTube, Google Maps and Play. This also includes new guidelines for advertising on the platform.
On their homepage, they now also promote the "Do to five" campaign, which provides hands-on tips on how to reduce the spread of Covid-19 according to WHO's latest recommendations. Along with this, they have also added more valuable information to their SOS Alerts, which include links to national health authorities and maps of the affected areas. It will now also be possible to see if schools or local businesses are closed through Google Maps and Search when Google facilitates for organizations to mark themselves as "temporarily closed" through "Google My Business" to avoid unnecessary traffic on the streets. Information regarding diffrent airlines policies on flexible cancellations will now also be made available through "Google Flights" with a separate website just for this subject.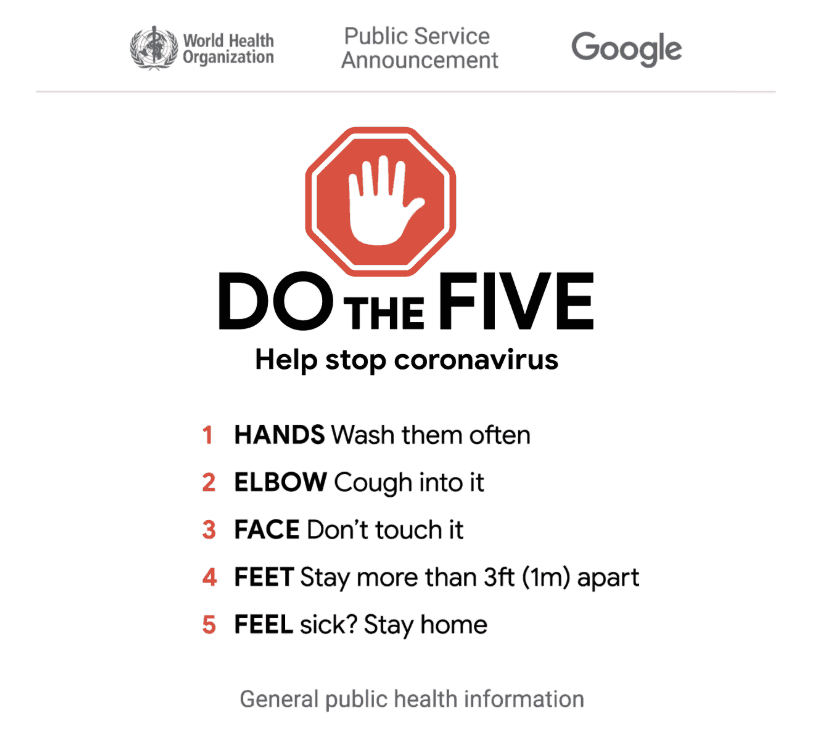 When it comes to YouTube, they have introduced measures that's targeting users with content from local and relevant public health organizations that provide reliable and accurate information. They have also added information panels to provide additional context to the high-quality sources when people search for the virus.
As a result of more people working from home, the use of the premium tools Google's Meet and Video conferencing app, increased lately. Google has now chosen to release these tools for free until the 1st of July, 2020. For teachers all around the world, they also have developed a distance tool in favor of distance education and to enabling knowledge to be shared quickly and smoothly.
Yesterday, Google teamed up with Facebook, LinkedIn, Microsoft, Reddit, Twitter and Youtube with a mutually statement in which they commented on their joint collaboration for a better future.
"We are working closely together on COVID-19 response efforts. We're helping millions of people stay connected while also jointly combating fraud and misinformation about the virus, elevating authoritative content on our platforms, and sharing critical updates in coordination with government healthcare agencies around the world. We invite other companies to join us as we work to keep our communities healthy and safe."
Follow theese sources to stay updated:
Facebook – Keeping People Safe and Informed About the Coronavirus
Google – COVID-19: How we're continuing to help
We hope you enjoyed the reading and gained some valuable insights about how Facebook and Google keeping people safe and informed about the coronavirus. If you're unsure for how to tackle things and go about it, we're always at your disposal. Don't forget to subscribe to stay updated! 🥳