The landscape of the trading market is more changing than ever with the digitalization of society that has accelerated explosively during the pandemic. In recent years, e-commerce has increased sharply and if we look ahead, we will see even more happen. Going forward, the digital landscape will continue to be shaped by the launch of Amazon's platform in Sweden and Facebook's launch of "Facebook Shops", which means that e-commerce will continue to establish itself and seems to become increasingly competitive within digital marketing.
Amazon Sweden
The launch of Amazon in Sweden was the first in the Nordic region. The speculation about Amazon before launch was that other requirements will be placed on the Swedish market and those who are unable to measure themselves will find it difficult to stay afloat. But also that it would be a tougher competition for retailers, as Amazons will have a large range of brands in many different categories. But what we can see after a few months is that Amazon hasn't taken over the market yet.
The Swedish trade is already one step forward in the digitization. It's hard to say how much of the market that Amazon will receive in the long run. But if you look at the Swedes' behavior when it comes to Apple, for example, the brand has been well established in the US for a much longer time than in Sweden. But has slowly but surely also become the market leader in Sweden of smartphones. The Swedes showed interest in Amazon since a comparison in Google Trends just during the launch. But has since returned to how it was before.
Let's have a look at Amazon's product categories:
Automotive
Apparel
Baby Products (ej kläder)
Beauty
Kitchen & Home
Books, Music, Video, DVD's
Camera
Consumer Electronics
Grocery
Health & Personal Care
DIY & Tools
Jewelry
Musical Instruments
Computing
Personal Care Appliances
Garden & Outdoors
Pet Supplies
Shoes & Accessories
Software & PC Games
Sporting Good
Toys & Games
Consoles & Video Games
Watches
Lighting
Luggage
Office products
American market
The American market is dominated by Amazon, Amazon's Share of the US E-commerce Market is 45%. German's E-commerce can be compared more closely with Swedish E-commerce, nearly 40% of all trading goes online via Amazon. Before the launch, it was advocated that Swedish consumers are inclined to buy and will spend more than 800 Million SEK on the platform. But time will tell – How willing are the Swedes to change their buying behavior?
Amazon for business
For the e-trader, there are different options to enter the platform, depending on what your business looks like today. If you want to transfer warehousing and distribution to the end customer to Amazon, there is that possibility, but at a price. If you do not have an extremely large flow of goods, it may be relevant to only sell your best-selling products, in order to win customers who will later return to your own website and buy more.
Amazon Advertising
Amazon Advertising offers three different ad formats that all add their share of advertising. To also mention, advertising is similar to Google Ads when you pay per click. In order to succeed with your advertising, in addition to an advertising account, a good strategy is also required.
Here are the ad formats:
Sponsored Products: Most effective of all formats as the only thing that distinguishes them from organic listing is that they are labeled "sponsored". Explore Sponsored Products here.
Sponsored Brands: This format can be described as a mix of product ad and display ad. The ad contains the company logo and shows products that "sponsored products" make. Explore Sponsored Brands here.
Sponsored Display: In this format, the focus is on increasing awareness for your target group. Explore Sponsored Display here.
Facebook Shops
Facebook has recently begun to broaden its product range by trying to enter new markets. Through Facebook Shops, retailers will be able to establish an external e-commerce directly on the platform and this is free. In short, customizing your Facebook shop will include:
Manage your catalogue: You can use an existing catalogue or set up a new one that works across Facebook and Instagram. You can import and sync your products from a platform such as Shopify or BigCommerce. Learn more about catalogues here.
Build your collections: Add six to 30 products to a collection, and use cover images and collection names that inspire people to see what's inside. Learn more about collections here.
Customize your shop: Use visuals, brand elements and custom colours to bring your brand to life. Arrange the layout and order of your collections so that people see your new and featured collections first. Learn how to customize here.
Communicate directly: Shops let customers quickly get in touch with you through Messenger, Instagram Direct and soon WhatsApp, to ask questions, get support, track deliveries and more.
Built-in checkout function: Checkout allows customers to buy items directly from a shop on Facebook or Instagram. Learn more about checkout on Facebook and Instagram here.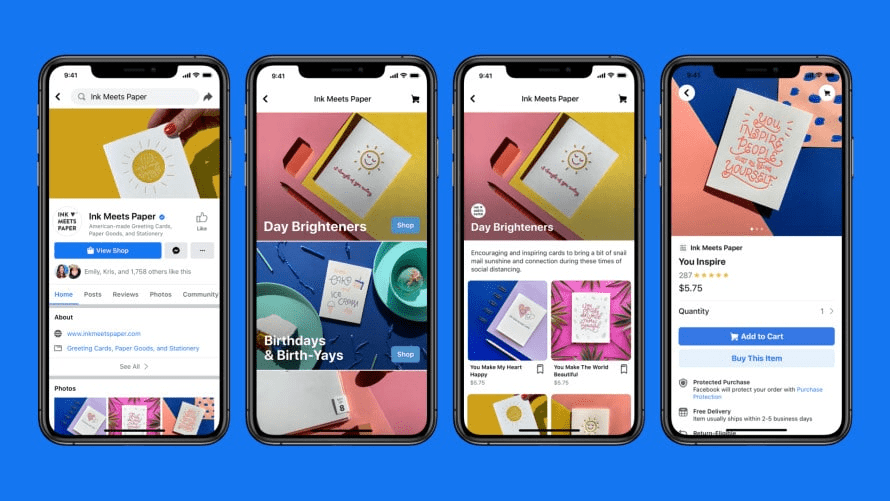 The products will be visible on the merchant's profile, story format and in advertisements. It is also planned to establish sales channels via the chat tools and also to be able to tag products during live-streams.
The platform is expected to be used primarily by small business owners, who make up the majority of the advertisers already on the platform. This is also where Facebook will include profits, through increased advertising, Mark Zuckerberg claims to CNBC. The establishment is very much about helping companies of all sizes to be able to reach new customers, especially in times like these when small businesses are having a hard time.
"Our business model here is ads, so rather than charge businesses for Shops, we know that if Shops are valuable for businesses they're going to in general want to bid more for ads," Mark Zuckerberg says in a intervju with CNBC.
To get started with Facebook Shops, you need to do the following:
Be the administrator of the account's Business Manager
Configure the store in Commerce Manager
Create a collection of products
Customize the store
Publish the store
For a more detailed description, you can click here.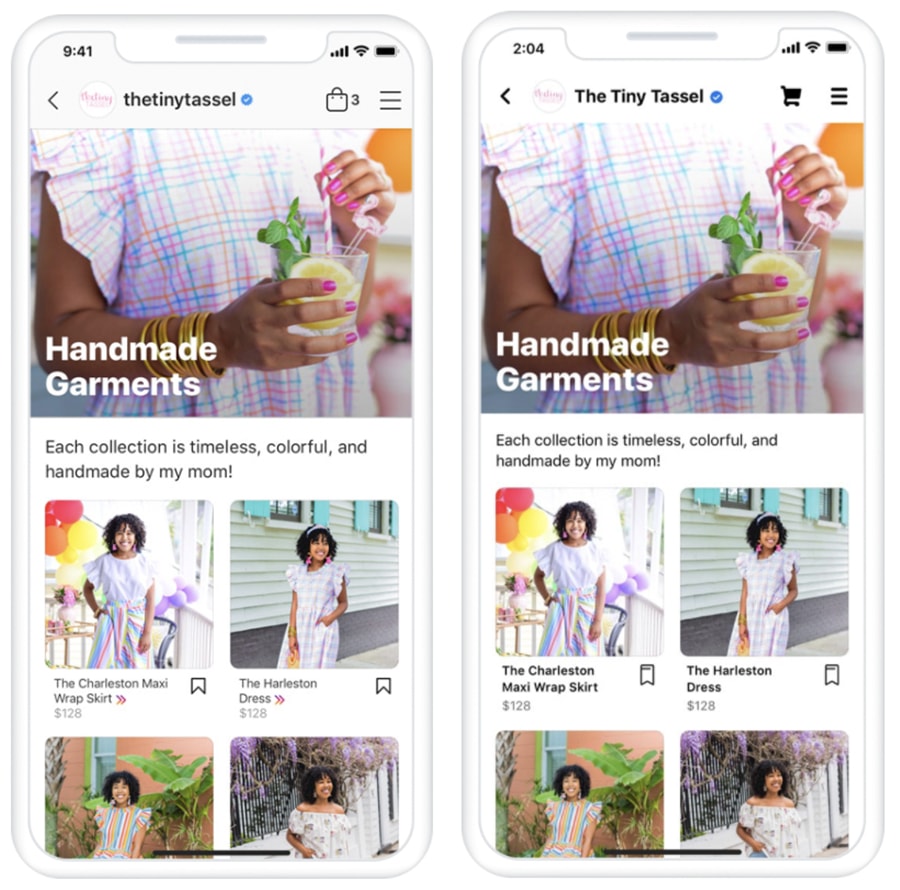 Summary
Amazon and Facebook are two giant businesses that ultimately want to get their users to their platforms and increase engagement. Companies can establish themselves on the platform and use its power, but here we believe that even if Amazon definitely can be used by smaller companies, these will find it more difficult given the requirements placed on the e-merchant to be able to establish a presence.
Facebook is aimed more at everyone and in our experience, there is so much potential on the platform, especially for the smaller companies as you can reach very specific target groups and be very close to the customer.
Good luck! You have to try things out to learn and above all develop to achieve the best results. Stay updated by subscribing to our newsletter!